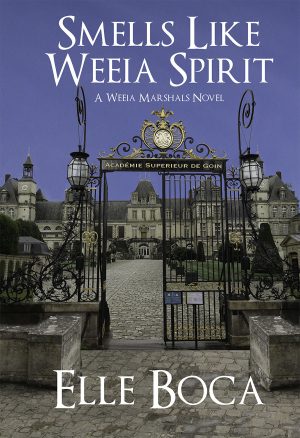 Danni Metreaux, a smart Paris marshal with a point to prove, and Sebastien Poyager, her loyal, wealthy and handsome partner, keep getting called in to deal with superhumans behaving oddly for no apparent reason, and innocent people are dying. Will they be able to find the culprit before more people die and the secret of the Weeia is revealed?
Click to buy Smells Like Weeia Spirit (The Weeia Marshals Book 3)
What others say:
A real page turner!

Smells Like Weeia Spirit is a wonderful addition to the Weeia world and another success for author Elle Boca. Danni and Sébastien are at it again, calming chaos and catching bad guys. A real page turner!
Anne Marvin, blogger, TruthinFantasy
A compelling, engrossing read, I was hooked from the first page.

A compelling and fascinating story with an original plot and likable characters. Danni is strong willed, dedicated to her job and an all around likable woman. She is able to balance her job and personal life perfectly. Elle Boca grabs your attention by blending fantasy and (the) real world to a perfect mix, making a engrossing page turning read. I was hooked from the first page. I highly recommended Smells Like Weeia Spirit to all. A true five-star read.
Sheri A. Wilkinson, reader
Thank you Sheri for posting the first review!
What a great ride!

I really did enjoy the book and I am completely new to Ms. Boca's work. Now that I have read this one I will definitely be looking for the first 2. I love that they are stand alone books and you can jump in anywhere to start, but still feel you can go back and read the others. Ms. Boca picks you up on the first chapter and has you sail along with her the entire story.

Wendy Wright, beta reader

A rollercoaster of action and emotions



Lovely third installment of the Weeia series. A rollercoaster of action and emotions, the Parisian setting is 'absolument superbe'
Katja van der Heijde, beta reader
An awesome read!

Author Elle Boca has delivered a complex and intriguing mystery for her third Weeia Paris Marshals novel. All of her characters and the amazing abilities they wield seem so real, and her descriptions of Paris make the book come alive. An awesome read!
Sandra Berg, MD
Unputdownable

Smells Like Weeia Spirit transported me into the wonder that is Paris, to the point that it felt I was there instead of my home. Danni and Sebastien had me turning the pages faster than I could read them.
Mary van Ede, beta reader
Emotional roller coaster of a read

A great addition to Boca's Weeia Marshals series. Human politics and conflicts spill over into the not-so-perfect world of Weeia–and of Paris. Once again, Boca has created an emotional roller coaster of a read, with larger-than-life characters, unlikely heroes, and a protagonist that is one of the most memorable characters I have ever met.
Nicholas Rossis, award winning author Pearseus epic fantasy series
Click to buy Smells Like Weeia Spirit (The Weeia Marshals Book 3)