As college friends Amy, Krissa and Lilly head to South Beach for a girls weekend they have no idea of the evil that lurks in plain sight. When Lilly goes missing Amy and Krissa discover they're the only ones that might be able to save her by using Amy's superhuman abilities. They pick up Lilly's trail only to be swept up in a life and death conflict larger and darker than they imagined. An unexpected encounter turns the stakes in their favor briefly before they find out the daunting odds they face to find and rescue Lilly before slavers sell her and she disappears. To make matters worse, Amy may have broken the Weeia's highest law and used her abilities in front of humans.
In book two of the Weeia series, Unelmoija: The Mindshifter, Amy's courage is put to the test. The Weeia, others like her who live extra long lives and have superhuman abilities, will not get involved in human affairs, even to save lives. Will her new found allies, human and Weeia, help her? What of Duncan, her love interest? What will become of Amy if she's captured? Who is the half demented man torn between killing and hugging her? She must rely on herself and others to save her friend and escape.
Click to buy Unelmoija: The Mindshifter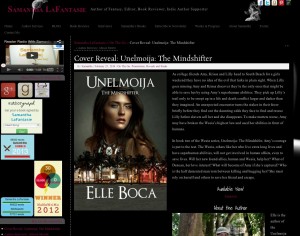 Unelmoija: The Mindshifter cover reveal on SamanthaLaFantasie.com
What others say:
I could not put it down, I was hooked from the first page!

I really enjoyed this Urban Fantasy. Amy is coming to terms with her abilities and learning more about the Weeias. I found the story interesting and at times very intense. Amy is so likable, the kind of person I would like as a friend. I also have to admit, I loved the cover! I highly recommend to (Urban) fantasy lovers. And also a must read the first book in the series Unelmoija: The Dreamshifter.
Sheri Wilkinson, reader
Fast-paced, well-developed, and a stunning new read

Elle Boca's novels get better and better with each new print. I was highly intrigued after the first novel and now even more so. Unelmoija: The Mindshifter is the most suspensful of her series yet.

There's enough action and dialogue that will keep readers turning the pages. Fast-paced, well-developed, and a stunning new read that will draw in readers from everywhere. I enjoyed reading this new story by Elle Boca and look forward to reading her next one. Overall, I highly recommend this to all. Unelmoija: The Mindshifter is definitely a must read.
Danielle Urban, Goodreads reviewer
Another engaging urban fantasy that is both fresh and immediately accessible

I enjoyed this novel. I recommend it to readers looking for a fresh and engaging take on urban fantasy.
Dave Higgins, speculative fiction author
(see it and other reviews on his website at https://davidjhiggins.wordpress.com/2017/02/17/unelmoija-the-mindshifter-by-elle-boca/)
This is one powerful novel.

A story quite compelling and issue that is in the news in many countries and often hidden beneath the pages unnoticed. Once again author Elle Boca has penned a novel that brings to light not just human trafficking and the need for laws to protect these young girls and boys from those that take them but loyalty, trust, friendship and an organized criminal activity in which human beings are treated as possessions to be controlled and exploited (as by being forced into prostitution or involuntary labor).
Fran Lewis, reviewer
Can't wait for the next one!

Once again, Boca manages to take the reader on a wild, suspenseful ride. There are enough twists and surprises to satisfy even the most demanding reader, while the back story of Weeia – one of my favorite parts of the plot – is expanded upon.

Boca's writing matures with every book, making me look forward to the next installment in the series.
Nicholas C. Rossis, author, Amazon's #1 Pearseus fantasy book series
A very interesting world

I've just finished the second book in Elle Boca's intriguing Unelmoija series, The Mindshifter. Ms. Boca has created a very interesting world and I'm enjoying the unfolding of the story and the development of the characters.
Anne Marvin, reader and blog host of Truthinfantasy.com
Suspenseful continuation

I really liked the grittier story line in this book; it took me completely by surprise, yanking the ground out from under me just as I was lulled into a false sense of security by the main character's enthusiastic narration. It feels like the tension has really been built up for the continuing story now. Can't wait for the next book!
Sharon Stevenson, author, The Gallows Novels and After Death Series
You'll be hooked after the first paragraph

I knew this would be a great read by the end of the first paragraph — the characters were already real to me, and the plot far from predictable. All I would request of Elle Boca is to give us the next book in the Unelmoija: The Mindshifter series as soon as possible. I finished this book a couple of months ago now, but am still thinking about the characters and wondering, what comes next?
Lara Pizzorno
"Unelmoija: The Mindshifter is an urban fantasy mixed with modern day thrills and limitless imagination. This well told story has a unique mix of a para- super human race unknown to the rest of the world and walking among us with a current problem our world faces of modern day slavery. A great read with well developed and enchanting characters. Adventurous twists and exciting turns coupled with incredible abilities make this story one cleverly original novel that has to be read."
Lisa Weir
This is such a unique and enjoyable series that anyone that loves a good fantasy read will enjoy

The characters are well developed and very likable, with a magical twist to them.

I liked how this book went to a dark place that most people don't like to think about, sex slavery. It's not something that is usually in books so it was cool to see it in this but done in a tasteful way. So it wasn't too intense to read about because things didn't go into detail. Kat's story was dark but it wasn't too much for me to read, I didn't feel uncomfortable while reading it which is always a good thing.

Amy is a great protagonist, she's brave, witty, and will do anything for those she cares about. Everything you want in a hero you get in her which is nice to see.
Ashley Tomlinson, reader, aspiring author, and host of hyperashley.com
I recommend for readers who enjoy urban fantasy and a fun, light read.

Unelmoija: The Mindshifter is book number two of the Weeia series, and it's a pretty good one, story-wise. The writing was fast-paced, like all the other novels I've read of Elle Boca. Amy's character has grown fictional-wise and writing-wise, which is a good thing.

I like how Amy grew from not having a clue about what Weeia is, to a young woman who embraces who she is, and will use her sacred ability to save someone, no matter the cost to her.

This is only Elle Boca's second book and I believe she's still getting her feet wet, finding her voice. While I am enjoying learning about Amy and her abilities, I prefer the Weeia Marshalls series the most. I recommend for readers who enjoy urban fantasy and a fun, light read.
Angela Kay, author, reviewer and host of Angelakaysbooks.com
"This is an absolute must read for any fantasy lover and anyone who wants to read the genre without being overwhelmed. It mixes just the right about of action, emotion, and fantasy as well as tackles an important issue into an awesome story. I would recommend this to anyone looking for a good read and any YA and NA fanatics."
Jasmyn Garrett, beta reader/reviewer
#NEW: Read my #interview with author Elle Boca in Book Oasis http://t.co/le8t4cAWO3
— Irene's Book Oasis (@BookOasis) April 22, 2014
I just reviewed: 'Unelmoija: The Mindshifter (Weeia)' http://t.co/G3sUZp80WT via @amazon#superhumans#fantasy
— Sharon Stevenson (@chettsgenie) April 9, 2014
I just bought: 'Unelmoija: The Mindshifter (Weeia)' by Elle Boca via @KindleUKhttp://t.co/rjGOs9Ehai
— Sharon Stevenson (@chettsgenie) March 30, 2014
Like urban fantasy fiction? Here's one to consider. https://t.co/XBwxcXIc7s
— Edward M. Bury (@edwardmbury) February 26, 2014
Cover Reveal: Unelmoija: The Mindshifter #fantasy#amreadinghttp://t.co/WQ4avXFeOq
— Samantha LaFantasie (@SamLaFantasie) February 25, 2014
Cover reveal: Unemloija, the Mindshifter, by @ellebocahttps://t.co/c6B62yGZPP
— Nicholas C. Rossis (@Nicholas_Rossis) February 25, 2014
@elleboca Hi, Elle! Thanks so much for the Mentions! I love your website and your book cover art is amazing! Happy Thursday!
— Juliette Hill (@JulietteHill1) February 20, 2014
@elleboca We'll have to do an interview on The Mindshifter when it's completed. If it's anything like Unelmoija, its gotta be good.
— Writer's Kaboodle (@SezoniWhitfield) January 8, 2014
Click to buy Unelmoija: The Mindshifter