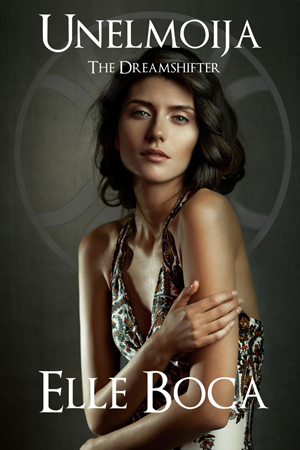 Amy. Pretty, intelligent, with newly acquired superhuman skills, she lives in a historic Miami waterfront estate. She's about to discover that isolation, youth and extraordinary abilities may not be enough when someone wants you dead…
Ready for a new kind of urban fantasy? In Unelmoija: The Dreamshifter a pretty yet ordinary young woman's life is transformed beyond her imaginings when a traumatic incident changes her forever. An unexpected encounter with the father she never knew and a mysterious man that repels and attracts her at the same time leads her to discover she's not who she thinks she is.
Click here to buy Unelmoija: The Dreamshifter
See Book Feature on Samantha LaFantasie site – click to enlarge
See book spotlight at Sharon Stevenson Supernatural Story Spinner
Click image to enlarge
See cover and excerpt reveal at Wild About Bones Presents Cover Reveals
What others say:
I loved the clearly defined characters

I was treated to an endearing, rich tale, expertly written, with many twists and surprises that made me finish it in a single weekend, unable to put it down. Boca's writing is sharp and witty, much like Amy, her lovable heroine. It's hard to believe this is her debut novel, first in the series.

I loved the clearly defined characters, and particularly how she avoided using a cliched "good vs. bad" approach to them. Her nuanced descriptions add much to the story, as does her constant mentions of food that reminded me of Camilleri's books.

I'm now off to buy the next book in the series, the Mindshifter…
Nicholas C. Rossis, author, Amazon's #1 Pearseus fantasy book series
Elle Boca has masterfully woven a beautiful tale…

Unelmoija: The Dreamshifter is the most unique fantasy I have ever read. Readers beware, this novel will lure you in like a moth to a flame. Elle Boca has masterfully woven a beautiful tale that will take readers on a rollcoaster ride of life time.

Intriguing, mystifying and the most exciting novel yet. Unelmoija: The Dreamshfiter will captive readers everywhere.

Elle Boca's novel is the first in this intoxicating new series. I can't wait to read the novels after this one. Interesting characters that can do extraordinary things and as in real life, danger is always nearby unexpected. I highly recommend this story to readers everywhere. I loved reading.
Danielle Urban, Goodreads reviewer
Very promising first novel

I just finished The Dreamshifter by Elle Boca. It is the very promising first novel in a series that boasts an interesting premise about a race of beings with superhuman capabilities. I'm already looking forward to the next one.
Anne Marvin, reader and blog host of Truthinfantasy.com
Boca does a great job of character-development and world-building

Boca does a great job of character-development and world-building in this introduction to the Weeia, and she lovingly captures life in Miami so intimately that you come away feeling as if the city itself is one of the living, breathing characters in her novel.

While reading Dreamshifter, I figured most readers focus their attention on Amy and Duncan, as they are the center of the action. They are sweet and I thoroughly enjoy their interactions and the energy between them, it's very natural flow, but they don't compare to Amy's father, Thomas McKnight. For me, he was the real intrigue. He's mysterious, powerful, something about him is rather sinister and honestly, I cannot wait to get more of him in the next books in the series. Interestingly, I'm not certain Amy will be sharing my sentiments.

Boca asks readers if they're ready for a new kind of fantasy and if your answer is yes, then waste no time and snatch up a copy of Dreamshifter.
Madhuri Blaylock, author, The Sanctum Trilogy
Great Fantasy Adventure

I really loved this book!

I thought the story was unique and original, and the characters were well developed. The main protagonist, Amy is very likeable and is presented in such a way that is very true to her age. The author accurately captures her uncertainty and all the feelings that come along with being a teenage girl.

The magical elements were very imaginative (not your run of the mill superpowers), and there were just enough plot twists to keep the story moving – it was a rapid pace, but easy to follow.

Overall a very quick and enjoyable read.  I would recommend this to anyone who loves fantasy and/or paranormal books.
Teresa Carlson, self described writer, illustrator, nerd
A fresh and engaging take on urban fantasy or paranormal romance

Combining an interesting twist on the modern world and fast-paced plot with a growing friendship that doesn't escalate to obsessive commitment in the first book, Boca avoids the clichés of paranormal romance without abandoning the frisson.

Containing no mention of vampires or werewolves, and little similarity to classical Western magic, Boca's mythology provides the reader with an opportunity to unravel the truth along with the character without any confusion or disappointment from comparisons to other works. In addition to this freshness, the magical structure revealed appears both consistent and plausible.

Both the immediate plot and the wider society created by the addition of this paranormal structure to the modern world are similarly engaging. And – while Amy does rapidly find herself facing a high-powered conspiracy – her involvement grows as a logical result of who she is and how she reacts rather than by constant coincidence.

I enjoyed this novel. I recommend it to readers looking for a fresh and engaging take on urban fantasy or paranormal romance.
Dave Higgins, speculative fiction author
"Unelmoija is a fresh take on Urban Fantasy. The characters pull you in and welcome you into their lives."
Jennifer Martinez, author of Written in the Stars
So for all you Urban Fantasy fans out there, check out Unelmoija: Dreamshifter

If you are a fan of Urban Fantasy, and the idea of Vampires and Werewolves leave you with Not another one, then you'll find this a refreshing story. It comes across as more of a female superhero story, with her, much like young Peter Parker, discovering the extent of her power and what having them means to her future. So for all you Urban Fantasy fans out there, check out Unelmoija: Dreamshifter. Be sure to drop back by and let us know what you thought.
Rick Rhodes, reviewer
"Fun read with an interesting world and very different Magic System."
Susanne Rieth, author, New York
Dreamshifter is an excellent debut urban fantasy, and I will definitely read its sequel, Mindshifter, to see Amy coming to grips with her reality.
MM Jaye, romance author
– Click here to see it on Goodreads
– Click here to buy Unelmoija: The Dreamshifter
What others say:
A unique story idea and great characterization

The author's strength is the character dialog. The back and forth between Amy and Duncan is well done and gives insight into their personalities that you wouldn't get from ordinary exposition.

Amy's relationship with her father was most interesting to me. It raised the most questions and the author left me wondering if he was to be trusted or not.

I'd recommend this book to lovers of paranormal mysteries like Charlaine Harris' "Grave" series.
Jen Ponce, author, The Bazaar
A very intriguing, thrilling Urban fantasy!

A fast paced urban fantasy. I really like Amy, she definitely had character, I also like her Mother as well. The story was original and kept me up way past my bedtime wanting more! I highly recommend to (Urban) Fantasy lovers and look forward to the second book, Unelmoija: The Mindshifter also by Elle Boca.
Sheri Wilkinson, reader
I enjoyed this book so much that I finished it all too quickly. Now I am very much looking forward to the next book involving these very appealing and interesting characters.
Lara Pizzorno, reader
I found the magic side of things intriguing. It was quite different to anything I've read before and I read a lot of fantasy books. It wasn't fully explained in this first novella but there was enough revealed to be able understand what was going on. I'm keen to see how the story is going to play out and how Amy's powers develop.

Overall this is a unique and interesting debut by new author Elle Boca. I would recommend to fans of paranormal, fantasy, suspense, and mystery books.
Sharon Stevenson, author, The Gallows Novels and After Death Series
A delightful urban fantasy set in Miami

I found this story unique and delightful, although I would personally enjoy a hint of romance between Amy and Duncan.

I loved the way the book ended in a happy, carefree moment when the conflicts had all been dealt with.

I wonder what the upcoming adventures of the Weeia will be, and I look forward to the next books in the series.
Effrosyni Moschoudi, author, The Necklace of Goddess Athena and The Lady of the Pier
"Loved the witty banter with Amy and Duncan. Fun to have Miami as a setting. It will be interesting to see what comes next by this author."
Michele Reynolds, author
Five stars – Ms. Boca's The Dreamshifter is debut novel

Follow Amy on an adventure as she meets a man she wants to be with yet wants to run away from and rescues her mother and sister.
Melissa, reader
"What would you do if you could change the way things happen and make them turn out the way you want? What would you could wish for something to change and it becomes reality if you have the power to do it? What would you do if you could make believe do things even if they did not want to? What if you could control and manipulate people to do things and obey you against their will? This is a powerful story about trust; manipulation, power, revenge and fear tied together in a story about a teenage girl named Amy whose life changes in one split second. Jogging one morning she senses that someone is watching her and comes face to face with a man who seems to know an awful lot about her.  More at Reviews
Fran Lewis, reviewer
…a well-written book that a lot of paranormal/urban fantasy readers would enjoy.
JP Schaper, reader, book reviewer, administrator and designer of Books That Hook
…Elle Boca crafts a masterful novella of a young girl's realization that her world is not what it seems, and of coming into the power that lay dormant within her… Hopefully more to come of this new and exciting character.
Lourdes Garrido, reader
The Dreamshifter is a great start to this series

Unelmoija: The Dreamshifter is a great start to this series is a great start to this series. The characters and story line are well-developed. Amy has powers that allow her to dreamshift.

This book has a lot of action and intrigue. I really enjoyed this book and am looking forward to reading the next book in the series. I give Unelmoija: The Dreamshifter 4/5 STARS. I recommend this book and series to everyone.
Jennifer Reed, reader and host of bookjunkiez.com
Unexpected and amazing use of detailed locale and strong characters

5 stars, must read! Unexpected and amazing use of detailed locale and strong characters. I couldn't put it down!
Amy knows she has a power but as a novice, she really doesn't understand it. Growing up, Amy's mother, sister and she was always hiding out or moving. They have already been kidnapped, always warned to stay aware of their surroundings.

Amy has just moved to a new location and decides to go for a run. As she gets near a convenience store she notices a man keeps staring at her. Feeling nervous she decides to confront him, as per his suggestion they find a seat in doors. Already Amy can feel the distaste around this man and knows he wants something from her. What? He announces that he is her father, more questions…

As they raise to leave another man just suddenly appears in front of them. Where did he come from? Who is he and why is his father shielding her from him while having a heated discussion?

What's going on? Will Amy receive answers to her questions or would that just lead to more questions? This is an on the edge of your seat mystery and well worth reading!!!!
Lani Houston, reader
– Click here to buy Unelmoija: The Dreamshifter
@elleboca I loved book 1, and I just got book 2. I'm now looking forward to reading it! My only problem is I can't put down your books! 🙂

— Nicholas C. Rossis (@Nicholas_Rossis) March 9, 2014
@elleboca What was great was your Dreamshifter! I finished it and will soon write a 5-star review!

— Maria (@MMJaye) May 19, 2014

@elleboca And reading your book made my night relaxing and enjoyable!

— Sheri Wilkinson (@SheriAWilkinson) May 3, 2014

Discover the amazing @elleboca#UrbanFantasy#fantasy The Dreamshifter http://t.co/KkFqJvC2c2

— Effrosyni Moschoudi (@FrostieMoss) April 6, 2014

Another five star review for Unelmoija The Dreamshifter http://t.co/6V01kaFA4N

— Sheri Wilkinson (@SheriAWilkinson) May 2, 2014

@elleboca You're welcome. I'll be picking up your second book later this summer when I have some breathing room. 🙂

— Jen Ponce (@JenPonceAuthor) April 16, 2014
@elleboca It should! Can't wait to get my hands on Unelmoija: The Dreamshifter!
— Maria (@mmjaye) April 11, 2014
After giving 5* to Unelmoija: The Dreamshifter, I just bought: 'Unelmoija: The Mindshifter (Weeia)' by @ElleBocahttp://t.co/AbtpbRocXl
— Nicholas C. Rossis (@Nicholas_Rossis) March 9, 2014
#BookFeature Unelmoija: The Dreamshifter @ellebocahttp://t.co/bltSk1oskE

— Samantha LaFantasie (@SamLaFantasie) March 14, 2014
#NEW: Read my #interview with author Elle Boca in Book Oasis http://t.co/le8t4cAWO3

— Irene's Book Oasis (@BookOasis) April 22, 2014

Why you must read Elle Boca's Unelmoija: The Dreamshifter: http://t.co/4awk6ld7ed Way to go @ellboca!

— Edward M. Bury (@edwardmbury) April 5, 2014
@elleboca We'll have to do an interview on The Mindshifter when it's completed. If it's anything like Unelmoija, its gotta be good.
— Writer's Kaboodle (@SezoniWhitfield) January 8, 2014
Like modern fantasy fiction? Here's a review about a friend's recent work set in #Miami. http://t.co/9lizEewIwX

— Edward M. Bury (@edwardmbury) December 19, 2013
Spotlight on 'Unelmoija: The Dreamshifter' by Elle Boca http://t.co/QEetN7wK7g

— Sharon Stevenson (@chettsgenie) December 17, 2013
Magic in a fiction novel. Miami urban setting The Dreamshifter http://t.co/QS0AoJzfej
— Martha E.Galindo (@E_Translations) December 7, 2013
Unelmoija: The Dreamshifter http://t.co/PSvKI3PBdj

— fran lewis (@franellena) November 24, 2013
Unelmoija: The Dreamshifter | Just Reviews http://t.co/PT8msOccIb

— fran lewis (@franellena) November 24, 2013