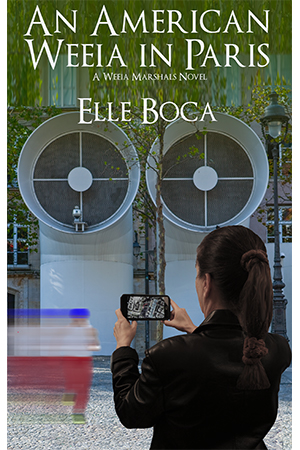 Parisians are delighted with the mysterious new superhero that has made the city safe from an out of control plague of robbers and criminals. The superhuman authorities, on the other hand, are non too happy because they suspect the superhero is one of their own, who is violating a prime directive, to keep their identity secret from humans. Danni, acting head of the Paris Weeia office, is tasked with apprehending the rogue superhero. Will she succeed before a well connected upstart beats her to the goal and steals her job?
Find it on Goodreads
Click here to buy An American Weeia in Paris (The Weeia Marshals Book 4)
What others are saying
I loved this book

I loved this book, characters that made me believe in them and a story that kept me entertained. Even though it is part of a series, you would still be able to read this as a standalone, as the author gives enough background to enable the reader to follow the story and identify with the characters.
Mary van Ede, beta reader
A joy to read

It was a joy to read this book, even if it does presuppose you have read the first three ones? This one is a real corker.
Watch out James, Paris is Danni's turf now!

Fast paced and furious but this book touches on a lot of emotional issues as well, brace yourself.
Katja van der Heijde, beta reader
Her best work so far!

Relentless. That's the best way to describe An American Weeia in Paris, the fourth book in Boca's Paris Marshals series. From the explosive beginning to the shocking revelations and numerous story twists, Boca has written a story that somehow manages to cram everything from a terrorist attack to a fun-filled weekend in Paris into a book which rapidly expands her Weeia universe. Her best work so far!
Nicholas C. Rossis, author
Danni is back

Marshall Danni is back in Elle Boca's fourth installment of the Marshals' series, and I love that Danni has stayed tough through loss and her own self-doubt that she isn't good enough, as well as the evolution as she comes into her own, realizing her worth.
Melissa Manes
Freelance Editor
Scriptionis
Click here to buy An American Weeia in Paris (The Weeia Marshals Book 4)