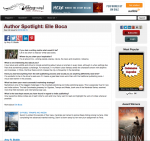 Elle Boca is this week's Underground Book Reviews featured author. With their permission below is a copy of the post.
Click to enlarge

Author Spotlight: Elle Boca
by Amy R. Biddle

If you had a writing motto what would it be?

Life is too short to read (or write) bad books.

Where do you draw your inspiration?

It's all around me – among people, places, nature, the news and situations I observe.

What is one interesting fact about you?

I love nature and wildlife and strive to include something about nature or animals in every book, although in urban settings like Paris that sometimes posses a challenge. For example, in my Miami urban fantasy series the characters swam with dolphins and manatees. In Paris, the River Seine which crosses the city, is frequently in the backdrop.

Have you learned anything from the self publishing process and would you do anything differently next time?
It's wonderful to be in the driver's seat even if it means a great deal more work than with the traditional publishing route. I would start earlier in the process.

What has been your most successful marketing strategy?

Marketing is one of the biggest challenges in the crowded publishing and indie publishing space. This is especially true for new and indie authors. The last Goodreads giveaway for Gypsies, Tramps and Weeia, book one of the Marshals Series, received more than 800 domestic and international sign ups.

What is the best kept secret you have found in regard to indie publishing?

How supportive fellow indies are of each other's work and how many want to read and highlight the work of indies whenever possible.

More about Elle Boca


GYPSIES, TRAMPS AND WEEIA
Sworn to protect the secrets of their race, marshals are trained to police Weeia hiding among humans. After completing her advanced marshal training, Danni is blown away by her new plum assignment to Paris.

Amy R. Biddle
Amy Biddle is co-founder and managing editor of Underground Book Reviews. Her debut novel, The Atheist's Prayer, is a dark comedy about a fairy-worshiping suicide cult. She is most at home in the Blue Ridge Mountains or surrounded by the great blue sea.
See the original post at undergroundbookreviews.org/author-spotlight-elle-boca/
Underground Book Reviews strives to support authors to take risks through free and paid services, including book reviews, author spotlights, beta reading and editorial services. Learn more at undergroundbookreviews.org/about-us/