Special Offer – for a limited time only!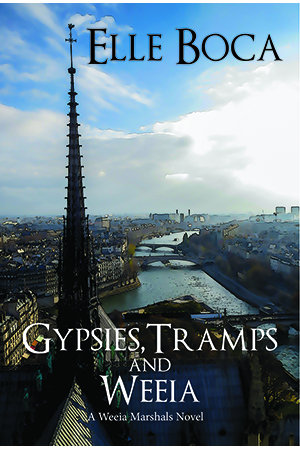 Like one of the Men in Black concealing a race of X-Men, Danni risks her life in the seedy underworld of Paris as a Weeia marshal protecting the secret of their existence.
Sworn to protect the secrets of their race, marshals are trained to police Weeia hiding among humans. After completing her advanced marshal training, Danni is blown away by her new plum assignment to Paris. But, all is not well in the City of Lights; the offices are a shambles, her boss is apathetic, and her predecessors died under mysterious circumstances; it's almost like somebody doesn't want the law there. Despite that she risks her life in the seedy underworld of gypsies and tramps to search for a missing Weeia man.
Sign up here to receive Elle Boca email offers and updates (not required) and to receive your free eBook of Gypsies, Tramps and Weeia today*!
*To receive your free eBook you must respond to our email confirmation no later than May 2, 2020.