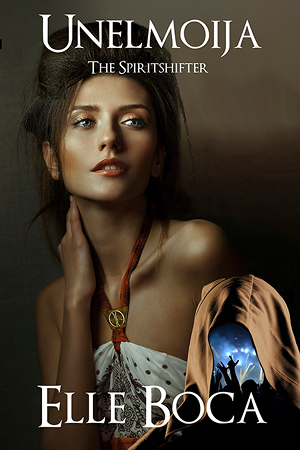 Unelmoija: The Spiritshifter, Book 3 of the Weeia Miami urban fantasy series.
Click to buy Unelmoija: The Spiritshifter (Weeia Book 3)
Loi, an amplifier able to help young superhuman Weeia develop their abilities, is found dead of mysterious causes. Amy, like Loi, may be an amplifier. If she gets involved she might be next. Should she risk her life to help Weeia youth unlock their abilities?
In book three of the Weeia series, Unelmoija: The Spiritshifter, Amy's courage is tested once again. Her boyfriend Duncan and the Youth for Change leaders want to find out why young Weeia have no abilities. Should Amy get involved? Is it the right thing to do?
They decide to bring Weeia youth to Miami so Amy can try to amplify their abilities without revealing her identity. Behind the scenes, powerful forces oppose her. Will Duncan, her sister Kat and their friends be able to protect her?
What others say:
My favorite of the series so far 

Unelmoija: The Spiritshifter picks up where the Mindshifter left off but leans more toward Amy and Duncan's relationship.

This one is my favorite of the series so far.

Melissa Manes, reader

A great Urban fantasy for Y/A & Adult readers, I could not put it down! I was hooked from the first page!

I really enjoyed this story, it delves more into Amy's life. Amy, Duncan & Kat are very likable. Well written and easy to follow, it felt as if I were part of Amy's group of friends. I feel that Y/A and Adult Urban/Fantasy lovers will enjoy Unelmoija: The Spiritshifter. Plus I loved the cover! A must read!

I also recommend Unelmoija: The Dreamshifter and Unelmoija: The Mindshifter.
Sheri Wilkinson, reader
Five golden salads for Amy and five heavily seasoned pizzas for Duncan

Spiritshifter: Unelmoija: Book 3 will tie up some lose ends, leave you wanting more of these characters and hopefully reunite Amy, her sister and mother with their absent husband and father.

Throughout the novel we get to know Duncan and we all wish that we had his metabolism so we could pig out and eat as much as he does. The chemistry between Duncan and Amy is almost as electric as her powers.

…one thing is for sure this is a must read series for all teens, young adults and adults to learn the true meaning of honesty, friendship, love, loyalty, moral values, ethics and the abuse of power. Once again the author has created a plot and storyline that gives readers much pause for thought.

Let's give this one: Five golden salads for Amy and five heavily seasoned pizzas for Duncan
Fran Lewis, reviewer
A highly enjoyable, well-written young adult/adult urban fantasy and a perfect summer read!

In the latest book by Elle Boca, Amy unlocks yet another ability, coming closer to her destiny. This book was lighter in tone to the first ones, and I for one enjoyed it all the better for that. For one thing, it focuses on character development, specifically in the blooming relationship between Amy and Duncan. It's nice to read more about this, as the first books were too action-packed to allow us a chance to do so.

Not that this book lacks for action, starting with a murder and ending with a shocking conspiracy being the reason for the lack of abilities that has troubled young Weeia. Masks drop and powerful forces reveal themselves, forcing Amy once again to take matters into her own hands. The Weeia can be saved, but at what cost?

A highly enjoyable, well-written young adult/adult urban fantasy and a perfect summer read!
Nicholas C. Rossis, epic fantasy author
I enjoyed this book and I am looking forward to reading Unelmoija: The Timeshifter

Unelmoija: The Spiritshifters is the enjoyable third book in the Weeia series and I found it was not as dark as the previous books. It is easy to read with humour, romance, and action (although not as much as the previous books).

Amy is selfless as she always thinks of others and is trying to figure out her unusual amount of powers and what it means for her. Kat and Duncan are good secondary characters and I love their interaction with Amy, with Kat's protectiveness and Duncan's humour.

I enjoyed this book and I am looking forward to reading Unelmoija: The Timeshifter. I would recommend Unelmoija: The Spiritshifter to fans of the rest of the Weeia series.
Kirsty, host of Amethyst Bookwyrm Reviews
Entertaining continuation

This book is somewhat lighter than the first two in this unique fantasy series; there was still a good bit of action and Amy is still in danger but there was also a strong sense of fun to this book, which had Amy combining a human talent with her new ability in order to help other Weeia in a rather unusual way. I found this entertaining to read and I also very much enjoyed Amy's interactions with her sister and boyfriend.

Overall this is another enjoyable book in a very interesting and unique fantasy series. I look forward to the next book and seeing where Boca takes these characters next! Recommended for modern/contemporary fantasy fans.
Sharon Stevenson, author, The Gallows Novels and After Death Series
Wow! Another five stars must read that I couldn't lay down!

Although each book could be a stand alone novella, it's so much more exciting to began with the first book!!!! I highly recommend these books to anyone that loves urban fantasy, romance, action, and suspense. I can't rave enough for this talented author and her imagination to weave such a delightful tale(s)!
Lani Houston, reader
Wonderfully written…

It begins where the second book leaves off with Amy and her boyfriend, Duncan along with Amy's sister, Kat at a Weeia conference. Unfortunately, a death occurs while they are at the conference and the three young Weeia see the body before the Weeia Elders alter the scene. What looks to be a "natural death" of a fellow Weeia named Loi becomes a mystery worthy of being solved by Amy and her friends.

Although book three of the series is lighter than the first two, it still has many suspenseful and thrilling moments. The characters are maturing quite nicely and coming to terms with their multitude of abilities.
S.A. Molteni is the author of several award-winning short stories including Fade to Gray, Her Name Was Half Calf and A Special Bull.