Enter now for a chance to win a paperback copy of Gypsies, Tramps and Weeia (The Weeia Marshals #1), an urban fantasy novella by Elle Boca.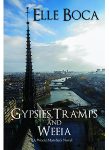 Sworn to protect the secrets of their race, marshals are trained to police Weeia hiding among humans. After completing her advanced marshal training, Danni is blown away by her new plum assignment to Paris. But, all is not well in the City of Lights; the offices are a shambles, her boss is apathetic, and her predecessors died under mysterious circumstances; it's almost like somebody doesn't want the law there. Despite that she risks her life in the seedy underworld of gypsies and tramps to search for a missing Weeia man.
Click here to buy Gypsies, Tramps and Weeia (The Weeia Marshals Book 1)
Have you been meaning to read the first book in the Marshals Series? Or perhaps you read the e-book already and would like to own a print copy. Here is your chance to win a free copy of Gypsies, Tramps and Weeia by entering the Goodreads giveaway open to members in the following countries: US, CA, GB, AU, BE, DK, FI, FR, DE, GL, GD, GP, HK, IS, IE, IL, JP, LI, LU, MQ, MC, NL, AN, NZ, NO, BL, KN, MF, VC, SG, ES, SE, CH, TC, VG, and VI.
The giveaway is open until Oct 02, 2016. It's free to enter and already more than 345 of your fellow Weeia fans have done it. What are you waiting for?
For a chance to win enter at https://www.goodreads.com/giveaway/enter_choose_address/199884-gypsies-tramps-and-weeia