Enter now for a chance to win a paperback copy of Weeia on My Mind, a Paris urban fantasy novella by Elle Boca.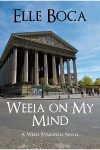 Click here to buy Weeia on My Mind (The Weeia Marshals Book 2)
Paris marshal Danni Metreaux has her hands full with criminals preying on a local Weeia merchant, a fresh trainee and the happy distraction of a new love interest. Her instincts are telling her that a powerful Weeia has been forcing humans to commit a series of crimes, and wiping their victim's memories, leaving them to human justice. Will Danni be able to discover who is behind the crimes and stop them without losing her own mind?
Have you been eager for more about the Weeia after reading Gypsies, Tramps and Weeia? Weeia on My Mind, book two of the Marshals Series Paris urban fantasy series, may be just want you are looking for right now. Or perhaps you read the e-book already and would like to own a print edition.
Here is your chance to win a free copy of Weeia on My Mind by entering the Goodreads giveaway open to members in the following countries: US, CA, GB, AU, AT, BE, DK, FI, FR, DE, GR, GD, GP, HK, IS, IE, IL, JP, LI, LU, MQ, MC, NL, AN, NZ, NO, KN, MF, SG, ES, SE, CH, TC, VG, and VI.
The giveaway is open until October 2, 2016. It's free to enter and already more than 282 of your fellow Weeia fans have done it.
What are you waiting for? Enter today at Goodreads: https://www.goodreads.com/giveaway/show/200135-weeia-on-my-mind