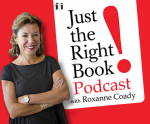 If you are reading this post you must like indie books. I'm sharing it to help spread the word about independent authors and publishers. I hope you will too.
For the first time, the podcast program Just the Right Book will mention an indie book. After a two week period of submissions in November, the program announced readers may vote for their favorite book from among 23 submissions, including Gypsies, Tramps and Weeia.
On December 15, the book with the most votes should receive exposure in an upcoming episode. See complete list below.
A spokesperson for the program explained, "we're going to have a segment on a future episode with Roxanne talking about the winning book for a given amount of time, but I assure you it'll be prominent within the episode. Depending on Roxanne's schedule that day, we may also call the author to speak on the book a bit, but we couldn't promise that officially as part of the "shout-out" because of her busy schedule around this time of year and some other factors. We also can't give out stats on our number of listeners, sorry!"
The podcast is hosted by Roxanne Coady, owner of independent bookstore RJ Julia Booksellers in Madison, Connecticut. Cast your vote by midnight December 14, 2017 for Gypsies, Tramps and Weeia (or any indie title from the list below) at http://bookpodcast.com/poll
"American St. Nick" by Peter Lion
"Booth" by Jason Pellegrini
"Chokecherry Canyon" by Mike Attebery
"Death by Diploma" by Kelley Kaye
"First Case Scenario" by Annemarie DeClark
"Gypsies, Tramps and Weeia" by Elle Boca
"#MeBeingMe" by Challa L. Fletcher
"My Movie Memoir Screenplay Novel" by Betts Keating
"Occupying Aging: Delights, Disabilities and Daily Life" by Katherine Schneider
"On The Edge of Dangerous Things" by Suzanne Snyder-Carroll
"Saving Our Lives: Volume One — Essays to Inspire the Writer in You" by D. Margaret Hoffman
"Scapegoat" by Emilio Corsetti III
"Seven Birds" by Amy Sargent Swank
"Sid Sanford Lives!" by Daniel Ford
"Smothered" by M.C. Hall
"The Christmas Letter" by Steven H. Berman
"The Devil in Black Creek" by D.R. Bartlette
"The Devil's Kettle" by Jeffrey J. Ollman
"The Kid in Me: A Personal Account of My Teen Pregnancy" by Margaret Thayer Paige
"The Salome Effect" by James Sajo
"The Sixth Event" by Kristen Morie-Osisek
"Threadwalkers" by Joanna Volavka
"Why Can't We Just Play? What I Did When I Realized My Kids Were Way Too Busy" by Pam Lobley