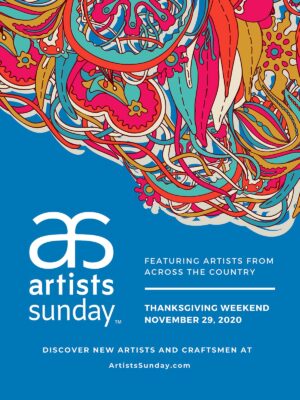 Artist Sunday 2020 poster
Join me
For Artists Sunday Nov 29th. It's like Black Friday for art, including the work of some authors.
I've joined artists, including some authors, across the country for the first annual Artists Sunday, a nationwide event, the Sunday after Thanksgiving, November 29, 2020.
Help us encourage consumers to shop with artists, craftsmen and authors. Think Black Friday, Small Business Saturday, or Cyber Monday while shopping for art – including authors!
Buy yourself something special and unique this holiday season or gift a new book or artwork to someone in your life. By shopping through Artists Sunday you're also supporting artists and authors, art and books, some of the things you love.
What I'm Doing On Artists Sunday
Next month I will announce how I'm participating in Artists Sunday. Look for an email, check the Updates on my website or follow me on Twitter.