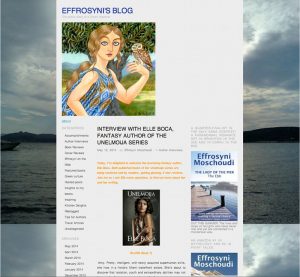 Click to enlarge
Effrosyni Moschoudi, author, The Necklace of Goddess Athena and The Lady of the Pier – The Ebb, interviewed Elle Boca on Effrosyni's Blog The public diary of a Greek dreamer, her website. Thank you, Fros!
Born and brought up in Athens, Greece Effrosyni lives in a quaint seaside town near Athens with her husband Andy and a naughty cat called Felix. Effrosyni's debut novel, The Necklace of Goddess Athena, is a fantasy adventure of Greek myths and time travel suitable for all ages. Described as a "Rare Gem" by the Fantasy & Sci-fi Network it reached Amazon's #1 in Mythology and #2 in Fairytales.
Her upcoming novel, The Lady of the Pier – The Ebb, is a quarter-finalist in the 2014 ABNA contest. It is the first part of a paranormal romance set in Brighton, England in the 1930s and in Corfu, Greece in the 1980s. It follows the lives and loves of two young girls who have never met but are connected in a mysterious way.