Check out the cover for my newest book An American Weeia in Paris due out very soon.
Know exactly where in Paris the white structures in the background are? You are invited to leave in a comment with your best guess.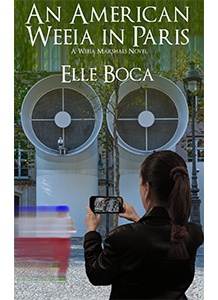 While human residents are delighted with the new superhero in the City of Light Danni, acting head of the Paris Weeia office, is tasked with apprehending the unidentified person her superiors believe is Weeia. Will she succeed before a well connected upstart beats her to the goal and steals her job?
Click here to buy An American Weeia in Paris (The Weeia Marshals Book 4)