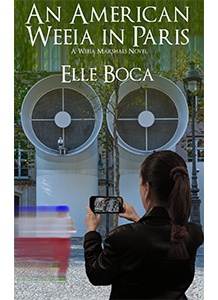 An American Weeia in Paris
Parisians are delighted with the mysterious new superhero that has made the city safe from an out of control plague of robbers and criminals. The superhuman authorities, on the other hand, are non too happy because they suspect the superhero is one of their own, who is violating a prime directive, to keep their identity secret from humans. Danni, acting head of the Paris Weeia office, is tasked with apprehending the rogue superhero. Will she succeed before a well connected upstart beats her to the goal and steals her job?
Check out what others are saying about An American Weeia In Paris
See it on Goodreads
Click here to buy An American Weeia In Paris (The Weeia Marshals Book 4)
Find out about the other books in the series:
Like one of the Men in Black concealing a race of X-Men, Danni risks her life in the seedy underworld of Paris as a Weeia marshal protecting the secret of their existence.
Sworn to protect the secrets of their race, marshals are trained to police Weeia hiding among humans. After completing her advanced marshal training, Danni is blown away by her new plum assignment to Paris. But, all is not well in the City of Lights; the offices are a shambles, her boss is apathetic, and her predecessors died under mysterious circumstances; it's almost like somebody doesn't want the law there.
Paris marshal Danni Metreaux has her hands full with criminals preying on a local Weeia merchant, a fresh trainee and the happy distraction of a new love interest. Her instincts tell her that a powerful Weeia has been forcing humans to commit a series of crimes, and wiping their victim's memories, leaving them to human justice. Will Danni be able to discover who is behind the crimes and stop them without losing her own mind?
Danni Metreaux, a smart Paris marshal with a point to prove, and Sebastien Poyager, her loyal, wealthy and handsome partner, keep getting called in to deal with superhumans behaving oddly for no apparent reason, and innocent people are dying. Will they be able to find the culprit before more people die and the secret of the Weeia is revealed?
Click here to buy An American Weeia In Paris (The Weeia Marshals Book 4)